I just finished reading "Brides of Culdee Creek" series book #2 called "Woman of Grace". It is a great book.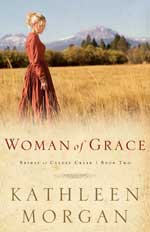 Don't this cover just make you want to get a quilt, a cup of tea and a cozy chair to settle into and read on a cloudy snowy day...Ahhhhhhhhh thats the life.. Can you tell I love to read... Not getting much quilting finished.. :(
We are suppose to get 5-6 inches of snow..yipeeeee more reading time.... That is the reason I like winter instead of summer. More reading and quilting time....